Special Offers and Promotions
Purchase either FileMaker Pro 12 or FileMaker Pro 12 Advanced
directly from FileMaker, Inc. or from your preferred reseller and receive
the FileMaker Training Series FREE!
Don't miss your opportunity to master the essentials of FileMaker 12. This self-paced curriculum provides step-by-step exercises, examples, and videos to improve your development skills and help you create more professional FileMaker solutions.
FREE Download! Get the Bento Business Organizer for iPad – Free!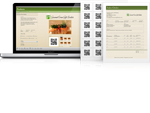 Designed specifically for use with new Bento 4 for iPad (sold separately), the Bento Business Organizer for iPad helps you organize all the details of your business, including contacts, projects, events and more. Download directly to your iPad from within Bento 4 for iPad or download now from the Bento Template Exchange and sync it to your iPad from Bento 4 for Mac.