FileMaker Go
Quickly develop and deploy
iPad and iPhone solutions
Start building iPad and iPhone solutions today
Need to develop and deploy mobile solutions for iPad or iPhone quickly for yourself or your team? Choose FileMaker Pro, the best platform for rapid iOS application development and FileMaker Go, the easiest way to deploy mobile iOS solutions on iPad and iPhone, all at a low cost.
Quickly develop iOS solutions with FileMaker Pro
With FileMaker Pro, data-centric solutions can be prototyped and completed in hours or days versus weeks or months. No programming or design experience is required.
FileMaker Pro has a robust, integrated architecture. Everything you need to build iOS solutions is unified into one application development tool. Start by dragging and dropping existing data to create customised forms. Click to add scripts and calculations or create fields and reports on the fly.
The FileMaker Advantage
Only FileMaker Pro give you these features all in one unified application:
Graphical user interface builder
Built-in starter templates
Point and click scripting
Industry standard security support
Links to MySQL, Microsoft SQL and Oracle data sources
Built-in database maintenance tools
Instantly deploy solutions on iOS
with FileMaker Go
Build a solution once on either Windows or Mac with FileMaker Pro and immediately deploy it to the iPad and iPhone. With FileMaker Go you simply copy databases locally onto a device from email or iTunes.
To easily share data remotely with your entire team, connect to solutions securely hosted on FileMaker Server. Data updates are instantaneous. Even enhancements to the solution are pushed live automatically. It's the easiest way to get the most up-to-date information for your mobile needs.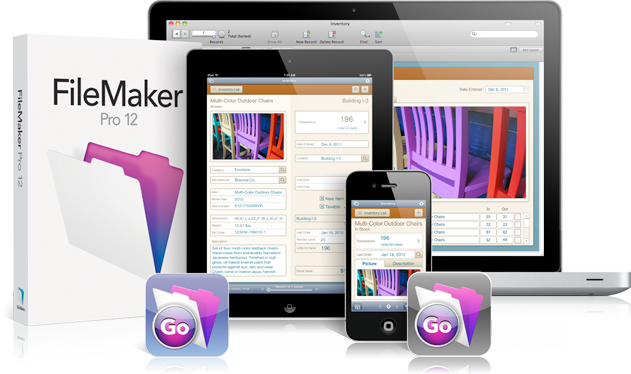 What is FileMaker software?
FileMaker Pro is the leading easy-to-use software for creating databases that help you and your team tackle any task, quickly and easily. FileMaker Go is the leading business database app for iPad and iPhone. It allows you to view, edit, and search your FileMaker Pro information on your device.