Complete platform for custom business solutions
The FileMaker Platform is a complete line of desktop and server software used to design, build, deploy and manage data-driven business solutions for iPad and iPhone. These custom solutions also run on Windows, Mac and in web browsers.
This comprehensive development environment allows you to:
Design and build stunning solutions and deploy them on iOS, Windows, Mac and web browsers
Integrate mobile solutions into existing enterprise and departmental systems
Deploy solution updates in real time as requirements evolve
Manage and secure solutions using
industry-standard authentication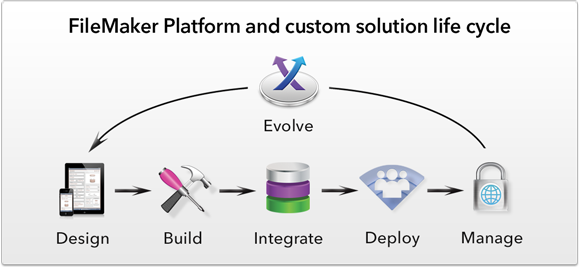 Build custom solutions in hours, not weeks
Designing and developing custom business solutions has never been easier. Using the FileMaker Platform, solutions can be prototyped and completed in hours or days versus weeks or months. No iOS application programming or design experience is required.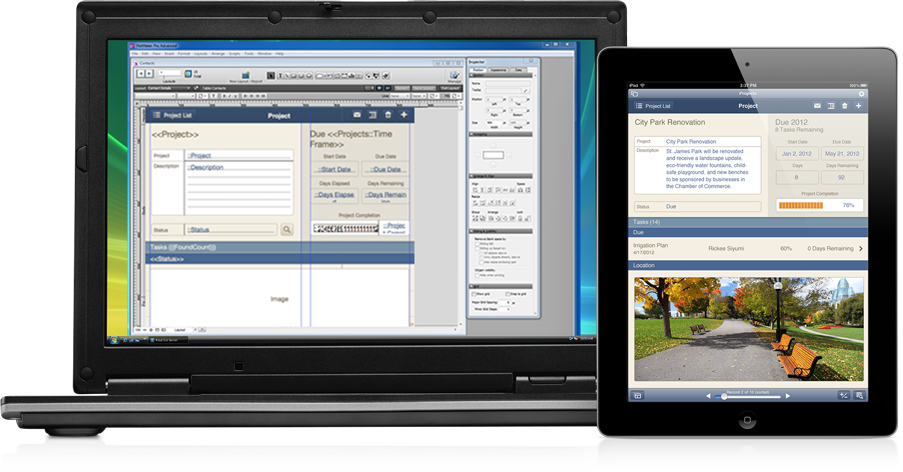 Visual development environment
Flexible visual design tools - Create stunning, professional solutions that include integrated workflow, scripted business logic, analytics and dashboards built on a full-featured relational database.
No custom libraries required – Easily add charting, report generation, PDF generation, Excel output, email integration and signature capture. And take advantage of essential native iOS APIs including location services, camera support, audio capture, AirPrint and Airplay.
iOS-based solution frameworks – Get started quickly with 16 Starter Solutions for iPad, iPhone and desktop. Use built-in iOS themes and stencils to design solutions that follow the iOS design guidelines.
"With iPads running custom FileMaker solutions, the project payback is less than four months with an annual ROI of 200 percent or more. Any CFO would love that."
– Joe Gonzalez, IT Services Manager
Austin Convention Center
Everything you need for data-driven solutions
Built on a relational database and incorporating a powerful scripting engine and a unified security model, the FileMaker Platform makes it easy to connect to existing business systems, automate business processes and protect confidential data.
Standards-based integration
Exchange data with ERP and CRM applications and implement workflows that incorporate FileMaker, Oracle, MySQL, Microsoft SQL Server and other database systems.
Automate business processes
Use the powerful scripting engine to automate tasks and streamline your workflow. Choose from more than 130 pre-defined script steps to control navigation, perform data queries, run calculations and more.
Security at the core
Granular controls allow you to precisely define role-based security to control data access. Additionally, you can integrate your FileMaker solutions with your Active Directory or Open Directory server.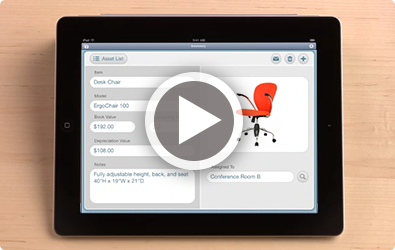 Instant update to solutions
No matter what device FileMaker is running on, updates to your solution are immediate when connected to a FileMaker server.
If you add a new form to track sales details, that form is instantly pushed to all connected iOS devices. Individual users do not need to download updates to the solution.
The FileMaker Platform
The FileMaker Platform consists of FileMaker Pro or FileMaker Pro Advanced to design and build custom business solutions, FileMaker Server or FileMaker Server Advanced to manage and deploy them, and the free FileMaker Go client to run the solutions on iPad and iPhone. These solutions also run on Windows, Mac, and in web browsers with little to no modification.