Special Offers and Promotions
Buy One, Give One!

Buy FileMaker Pro 12 or FileMaker Pro 12 Advanced
and Give One Free.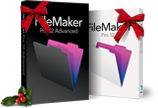 For a limited time, buy FileMaker Pro 12 or FileMaker Pro 12 Advanced and get a free download of the same product. Offer expires on December 20, 2012.
Get the FileMaker Starter Bundle for iOS!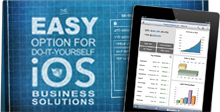 The FileMaker Starter Bundle for iOS is the quickest and easiest way to develop and deploy data-driven business solutions for iPad, iPhone, Windows, Mac and web browsers. For just $399 for the first year, you get:
FileMaker Pro 12 Advanced software to quickly design and build stunning professional solutions customized to solve any of your business tasks.
FileMaker Server 12 software to integrate, deploy and manage your iPad and iPhone solutions.
FileMaker Go software to run your customized solutions on iPads & iPhones.
Access to the FileMaker iOS resources page with videos and guides to help you master creating and deploying your iPad & iPhone business solutions.
Save Big - Get 10 FileMaker Pro licenses for only $950 per year!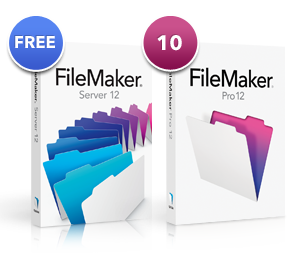 Now is a great time to set up your team with FileMaker Pro and Server as the cost of entry is lower than ever. By taking advantage of our 10 FileMaker Pro and FREE Server bundle offer, you will enable your FileMaker Pro users to securely share files and information.