FileMaker Go
Tackle any task on iPad & iPhone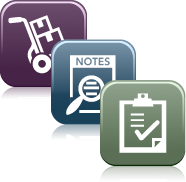 Do more on the go
Tackle any business task on your iPad and iPhone with FileMaker Go. In just hours, not weeks, you and your team will be able to:
Display current stock levels from the warehouse with colourful, eye-catching charts.
Update project status by sending Excel files or PDFs in a few taps.
Close sales deals on the road by instantly capturing digital signatures.
Collect research data in the field by recording video and audio and adding the files directly to your database.
Swipe through patient medial records in the emergency room.
See 50 uses for FileMaker Go.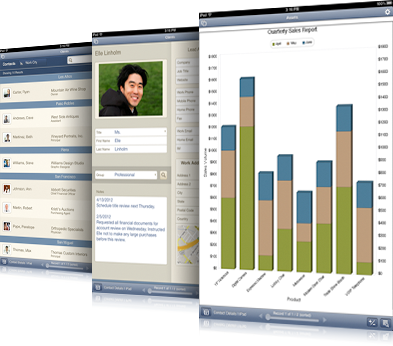 Get started quickly
It's easy to get started creating and running custom business solutions with the FileMaker product line. Start by building your solutions on FileMaker Pro, the leading easy-to-use database software. Create a custom solution from the ground up or use one of the many built-in Starter Solutions designed for the iPad and iPhone and modify it to meet your needs.
Then, with a few clicks, upload and run the solutions on your devices using FileMaker Go, the leading business database app for iPad and iPhone*. Databases you create for the iPad and iPhone can also automatically run on the desktop or the web – no re-tooling needed.
*Requires FileMaker Pro 12 or FileMaker Pro 12 Advanced to create or modify databases.
I was amazed. FileMaker Go runs my database exactly like my desktop. There's no performance difference at all. It just works.
Having the native application on the iPhone and iPad gives you a much richer experience. We have some graphics, some large text fields. They all display perfectly on the iPad with FileMaker Go.
Setting up FileMaker Go was virtually effortless. I did everything I needed to do on the desktop version and just copied it over to FileMaker Go on the iPhone.